Follow Up on the PnP Repository for the Rest of Us sp-usage-docs
16 Sep 2019
Back in May, I wrote an article here about the new sp-usage-docs PnP repository. At the time, while I was excited by the potential of the effort, I couldn't spend enough time promoting it to get it really rolling.
The idea of this documentation repository is straightforward: provide information and guidance to site owners and citizen developers about how best to use the platform to achieve success. We want to get at what works - and sometimes more importantly, why it works – to help people understand the platform better and make better decisions as they build out their own solutions.
Now that we're all "back at school" (at least in the Northern hemisphere) – and following a blog post I did to make some noise about it - the effort is really taking off. Within the last week, we've gotten 3 new articles, many requests for articles on specific topics, and commitments to write additional articles.
The idea of a community-driven set of documentation about how to use the platform successfully has always seemed like a great idea. While Microsoft's product teams and marketing people know how they think we will use the platform, people outside Microsoft know how things are really used successfully. By documenting how we reach those successes, other people in the community will benefit by being able to build better solutions, and we will also be providing valuable perspectives back to Microsoft.
As Vesa Juvonen (@VesaJuvonen) recently said on Twitter:
"We are looking into extending our open-source efforts also on non-dev topics by starting to collect relevant documentation on other areas. See @sympmarc's blog post on more details on this effort. Join the movement! Sharing is caring! #SharePoint #Office365dev"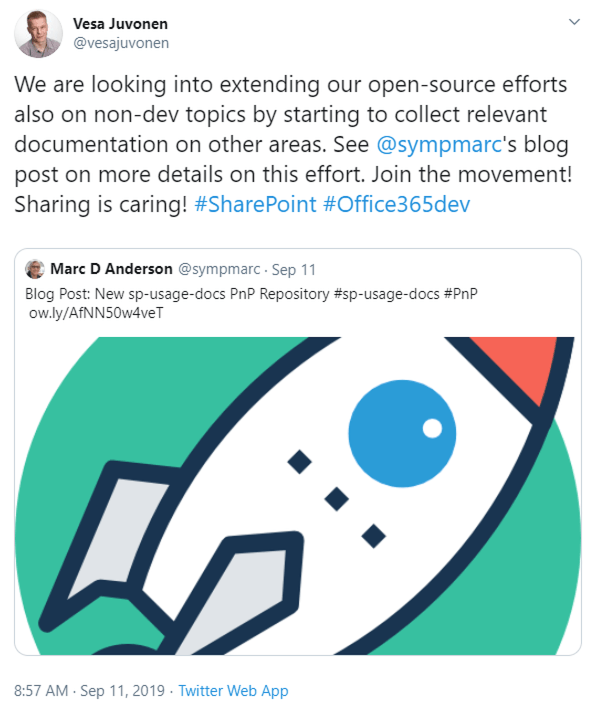 DC Padur (@DCPadhur), who is a Program Manager on the SharePoint team, recently said on Twitter:
"I've always wondered what it'd be like to have a community driven "problem solved" file. Keep client names anonymous, but document the #SharePoint challenge and modern approach used to solve it. This could serve as a great learning and inspirational tool."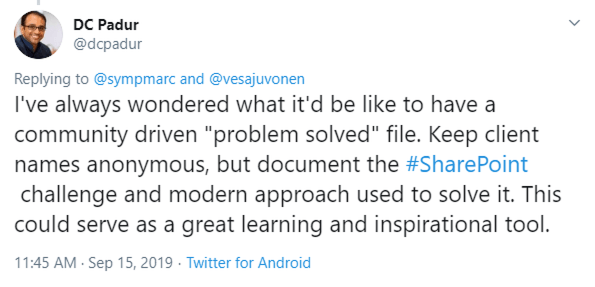 My ask for you, gentle reader, is to read my blog post above and look at the repo as it stands. It lives on Github, so to some of you it will seem ugly and a little confusing. Github is where things live from a content management perspective, but we hope it will soon feed pages on docs.microsoft.com.
Once you've looked:
Think about what content you've tried to find about how best to do things in the past but couldn't find what you needed. Add those ideas as Article Suggestions in the Issues list.
If you're game to read what we have already and have suggestions for improvements, we'd love to hear them. Add an Article Issue in the Issues list.
If you'd like to contribute content – either something you've already written on your blog or maybe have seen elsewhere, add an Article Suggestion in the Issues list, ask to be assigned to take care of it, and submit the content. There's information about how to do this on the Adding Content page.
If you have other ideas, just add an issue so we can discuss it. We're working "out loud" here - there are no dumb questions or ideas. We'd love your input!